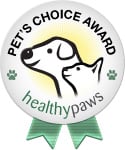 This week, we're featured on
Healthy Paws
as contributor to the
Dog Accessories Worth Fetching
article.
I implore you to head on over there and check it out--you'll likely recognize all the featured dogs and their bloggers.
BONUS--here is a ridiculous photo of Desmond at daycare to help you get through the day:
Because why choose one of the many dog beds when the top of the small hard-plastic slide is available?